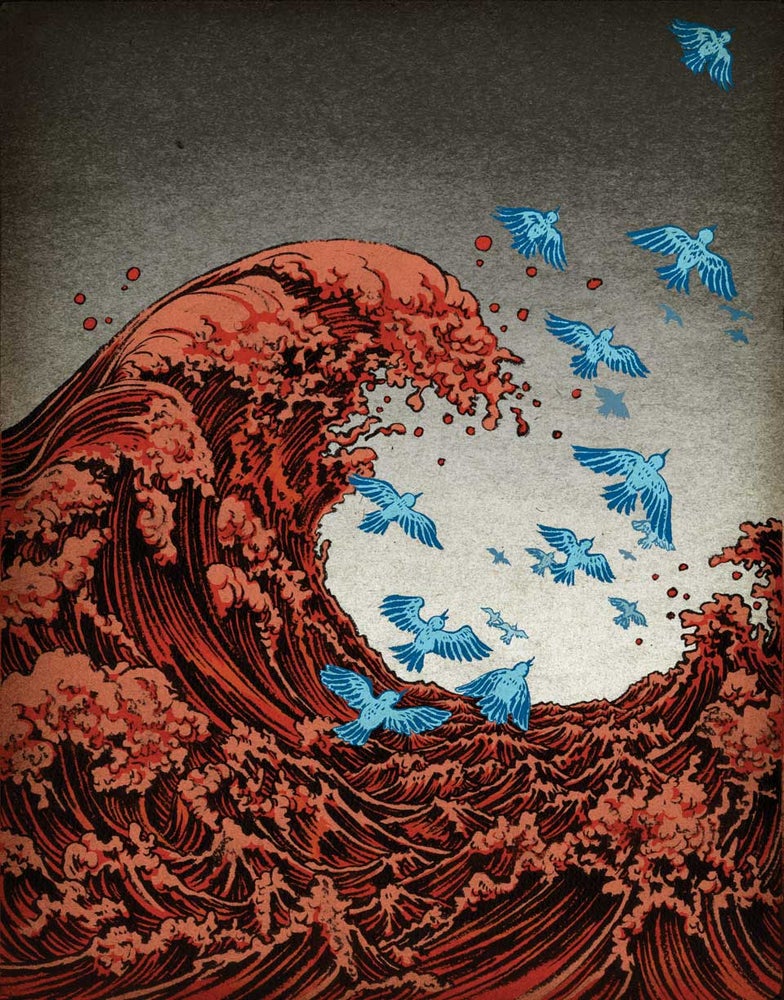 Shimizu: Artist, Illustrator, Teacher and Author
The Yuko Shimizu who is an illustrator, artist and teacher at the School of Visual Arts in New York City is not the Yuko Shimizu who invented Hello Kitty. Let's get that out of the way first thing.
This Yuko Shimizu is the illustrator, fine artist and teacher, whose monograph, "Living with Yuko Shimizu: 32 Removable Arts Prints," has been issued by ROADS Publishing and will soon be available in the U.S. Shimizu says the stateside release of the book has been delayed because her publisher sold more in Europe than they had expected and ran out of stock. She is funny and sarcastic about this, "They had more orders than they expected, like what, 100 more books? It's not a huge title for them and there was a limited run and they sold more that expected. That's good, but how many more?" she laughs.
An Artists' Artist
Shimizu is an artists' artist: She doesn't have a television, won't order from Amazon and rejects offers of work that involves tobacco products, online gambling, oil companies and some fast food companies. It's just not for her, but she'll recommend other artists for those jobs. She streams WNYC radio all day while working in her midtown studio. Alec Baldwin's "Here's the Thing" and also "Snap Judgment" are among her favorites shows. She also digs Radiolab and The Moth Radio Hour. Listening to New York public radio is also how she stays current with the news and information related to her work since she is not a consumer of popular culture.
Unrelenting Supporter of Artists
The last concert she attended was Morrissey's last year and she also went,with a friend who is a fan, to see Sufjan Stevens, who she says is "big with designers and artsy people, definitely popular with a certain demographic." Shimizu doesn't use Pandora or Spotify: "It's a conscious choice because the artists don't get paid. I'm of that generation that buys entire albums anyway and I buy or order books from independent bookstores. It's a way to support artists in the way I want to be supported as an artist," she declares.
Shimizu lives on the Upper West Side of Manhattan near Columbia University. The artist's home is within walking distance of a handful of indie bookstores. She says she visits them regularly even if she isn't looking to purchase anything. "Much of my work is designing book covers and I like to browse and see what is out there." Until 2008 when the U.S. economy tanked, about 90 percent of her work was for consumer magazines.
Teaching Her Students to Respect Artists
Today, aside from book covers, Shimizu's work is often for university publications, alumni journals and such.  She says the work is a lot more laid back because of longer deadlines. "They generally publish quarterly so there is a long lead time, whereas the weekly deadlines for consumer publications can get crazy.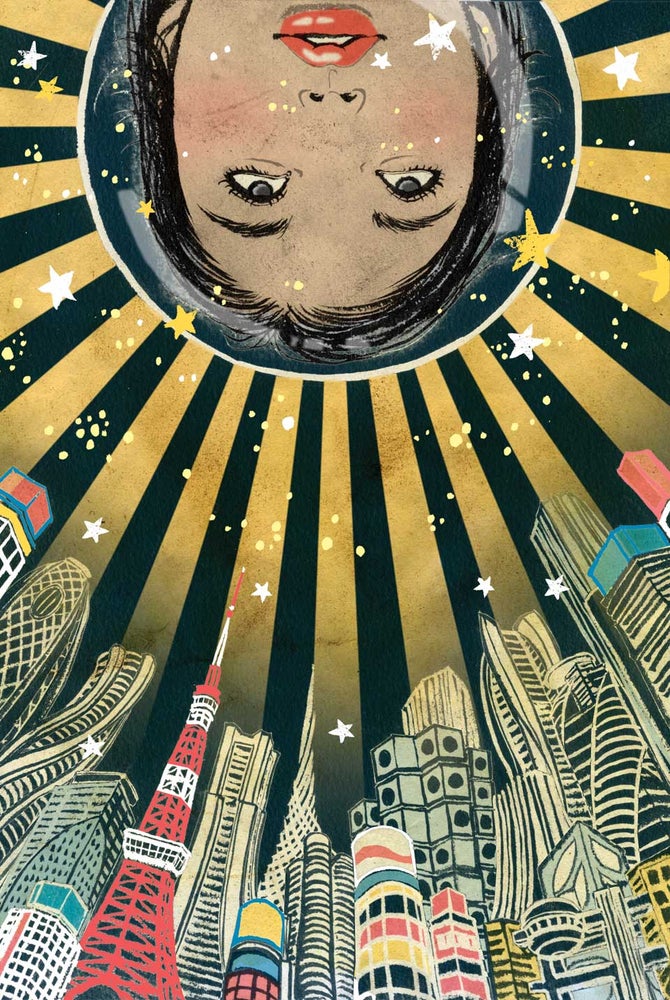 "As a teacher, she nurtures her students' talents, but her pet peeve is other teachers who assign to their students projects that require contacting specific artists with generic questions. Because of time constraints, she created an extensive FAQ section on her website. It answers the broad questions she most often receives from students.
Shimizu says she takes her own students on a yearly trip to the Society of Illustrators to see the exhibits. She  first asks them to make a list of artists. Then she asks them to choose one for whom they can find enough information online to research. "The only reason a student should be contacting an artist is if there is an important, specific question that needs an answer that cannot be found online. And then, the message should be addressed appropriately, well written and the student should also recognize the time it takes away from the artist's work to answer."
A Teacher Who Also Learns From Students
"But, students also teach me," she says, "more than they know. Young people today have such an entrepreneurial spirit. They grew up with platforms such as Etsy and Airbnb. They grew up in a recession and entrepreneurship is embedded in them." Shimizu concludes, "They naturally think as business people. I remember when the personal computer came out. It was a decision of PC versus Mac, and when cell phones became the norm. Things have changed tremendously."
Clarity at Rock Bottom
It was only after an 11-year career in public relations in Tokyo that Shimizu finally came to terms with her lifelong dream of becoming an artist. She says she always liked to draw and paint. However, her parents discouraged her, telling her artist is not an occupation.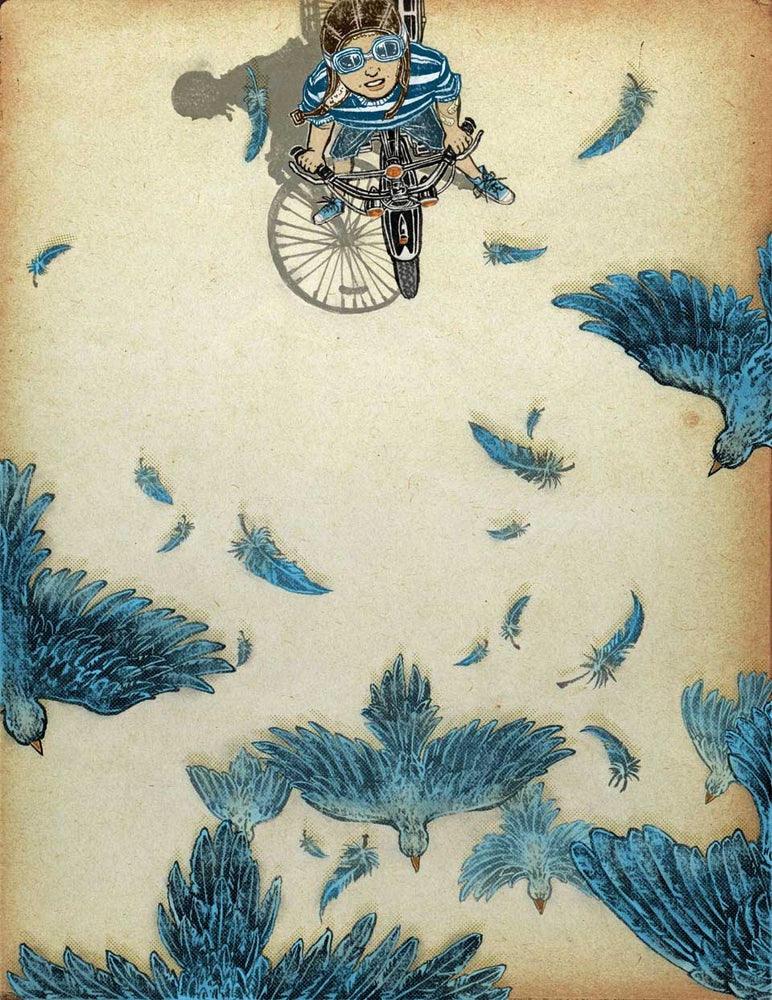 "When you are happy, you can let things slide: "Oh, I have a good job, I'm getting a regular paycheck, I have friends and I go out…. But when you are miserable in a conservative corporate job as I was, having hit rock bottom, you see things so clearly. I was 30-years-old and that was a kind of demarcation that I was an adult. But, I wondered whether I was the right kind of adult."
Tireless Artist is Much in Demand
Shimizu says she thought for three years about what she really wanted and made a plan. She wanted to live in New York City and be a career artist. Her plan was to get a student visa to attend art school in NYC. Then she planned to obtain a work permit after graduation, then an artist visa and finally, a green card. She accomplished all of this, but not without a lot of hard work. "I worked seven days a week for about three years straight after graduation, never taking a single day off."Today, Shimizu enjoys weekends off. Or at least Sundays when she doesn't take the subway, or even leave her neighborhood. "I clean and do laundry, go to the farmer's market, sit on a bench in the park, go running…."
Shimizu's flourishing freelance career includes invitations to present at conferences and conduct workshops all over the world. In fact, traveling is what keeps things interesting for her. "It's not like leisure traveling since the places choose me rather than me choosing them." But, she does enjoy where she ends up and has interesting adventures, getting to know locals in a way that doesn't happen when vacationing.
The artist draws all her work by hand with Japanese calligraphy brushes. She uses ones specially made for Buddhism manuscript writing and uses Photoshop to add color.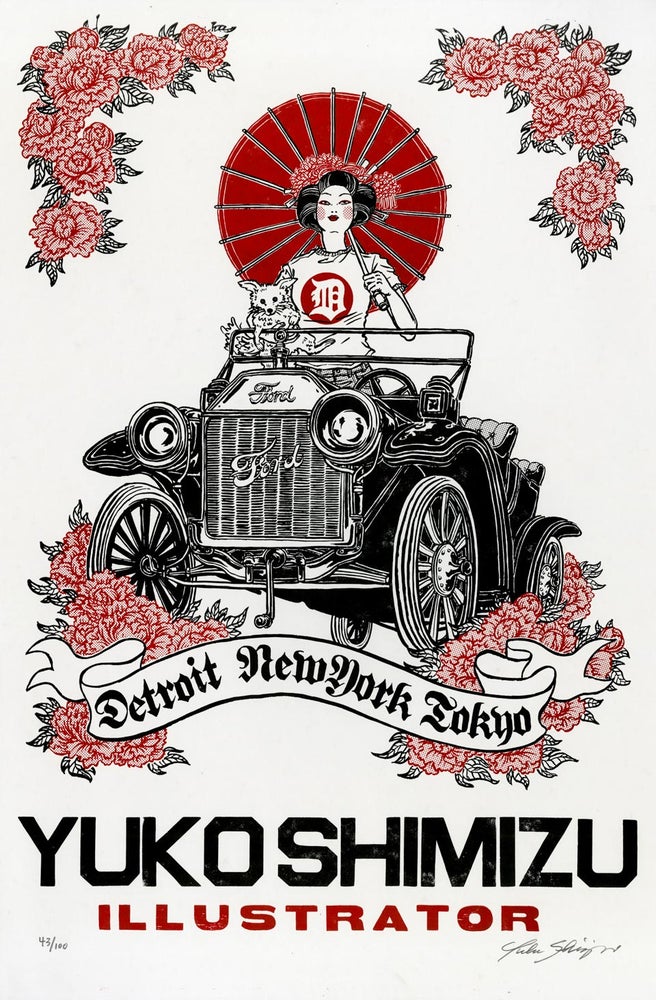 Philosophical about the value of art, Shimizu says, "Will art stop wars? No, but art makes life richer and brings living to a level above just getting by." http://yukoart.com/about/